Stringbean Festival Celebrates 20th Anniversary

GRAY HAWK, KY  (June 13, 2016)  — The 20th Annual Stringbean Memorial Bluegrass Festival will be held Thursday-Saturday, June 16-18, at Stringbean Memorial Park in Tyner, KY.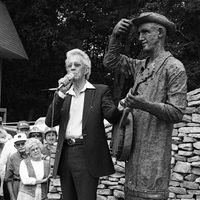 Celebrating its 20th year, the festival honors Jackson County native and beloved Grand Ole Opry star David 'Stringbean' Akemon.  His unique stage attire, traditional claw hammer banjo style, and entertaining stage banter endeared him to fans around the world. 'The Kentucky Wonder' was best known for his musical comedic performances on the hallowed stage of the Grand Ole Opry beginning in the 1940's and on the television series "Hee Haw" until his tragic death in 1973. 
With a rich history and beautiful locale at Stringbean Memorial Park, the festival has hosted the biggest stars in Bluegrass including the legendary Ralph Stanley who headlined the inaugural event in 1996.  Other celebrated Bluegrass royalty brought in by festival founder Phillip Akemon include the Queen of Bluegrass Rhonda Vincent, 14-time Grammy winner Ricky Skaggs, Hall of Famers Del McCoury and Doyle Lawson, and 26-time IBMA Award winning band Blue Highway.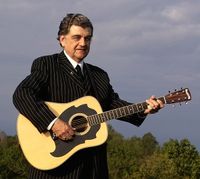 Hall of Famer Larry Sparks will headline this year's anniversary event, along with Ralph Stanley II and the Clinch Mountain Boys.  Also appearing are local favorites Laurel River Line and the Letterbox Boys, along with festival host Phillip Akemon and his band FlatLick. 
Eighteen bands overall will perform at the three-day event, including the GrayHawk Boys, Bear Branch Bluegrass, Crimson Cross, the Morehead Bluegrass Student Band, Sammy Adkins & the Sandy Hook Mountain Boys, and Southland Drive with Richmond's Bluegrass Express Radio Host Charlie Hall on banjo. 
A complete schedule and list of performers can be found at www.StringbeanPark.com.  Ticket prices are $15 per day, or a Three-Day Pass for $45. Camping with electric is $25 per day, while primitive camping is Free with a festival ticket. 
###

Press Release Courtesy:
Sherri George
Publicist & Tour Manager, Blue Highway

_________________