David 'Stringbean' Akemon Inducted into Kentucky Music Hall of Fame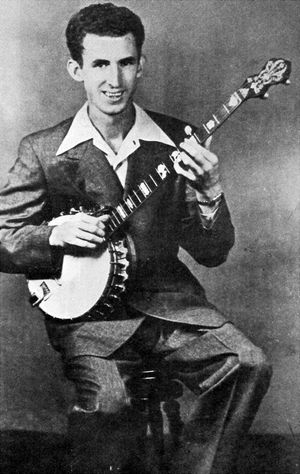 RENFRO VALLEY, KY (May 22, 2018) --  David 'Stringbean' Akemon, a legend in country music who rose from humble beginnings in Annville, was honored posthumously as the newest member of the Kentucky Music Hall of Fame on May 11, 2018. 
David 'Stringbean' Akemon, Dale Ann Bradley, Jason Crabb, Billy Ray Cyrus, Jackie DeShannon, and Bobby Lewis were honored as 2018 Kentucky Music Hall of Fame Inductees for  at a ceremony held on Friday, May 11, at Renfro Valley's New Barn in Mt. Vernon, KY. 
Gathering first at the Kentucky Music Hall of Fame on May 10 for a private dinner and unveiling of Hall of Fame displays,  the new Inductees and their families watched as the spotlight shone brightly again on Stringbean Akemon, who rose to world-wide fame as a star of the Grand Ole Opry and Hee Haw television series. 
The Induction Ceremony at Renfro Valley on May 11 featured performances by new Inductees, as well as Phillip Akemon,  his son Phillip Wayne, and grandson Jordan, who performed three of Stringbean Akemon's lighthearted songs, including "Run, Rabbit, Run." 
"String would be tickled to death about his Hall of Fame Induction, and it was a great honor for me to receive his trophy for him," said his nephew Phillip Akemon. 
"When Porter Wagoner asked Grandpa Jones what he thought String would think of his statue in Stringbean Park, Grandpa said he thought String would be tickled to death. And I think he'd say the same about the Kentucky Music Hall of Fame." 
David Akemon grew up in Annville, crafted his first banjo from a box and string, and traded two prized Bantam chickens for his first real banjo at the age of 12. 
Talent contest judge Asa Martin called the lanky young man 'Stringbean' when he forgot David's name while introducing him a few years later, and the nickname stuck. 
Stringbean also loved baseball, and met Bill Monroe while playing semi-pro baseball. Akemon became a member of Monroe's legendary Bluegrass Boys, and played with the Father of Bluegrass from 1942-45.  Earl Scruggs followed in Akemon's footsteps at banjo for Monroe when Stringbean left to get married and form a comedy duo.  Stringbean teamed with Grandpa Jones in 1946, and a lifelong friendship was born.  Akemon cut the first of his seven solo albums in 1962 called, "The Kentucky Wonder and His Five String Banjo." 
Stringbean became a treasured regular performer on the Grand Ole Opry and Hee Haw until his tragic death in 1973. 
He and wife Estelle loved the simple life, living in a cabin on a farm in Ridgetop, north of Nashville, with a color television set and a Cadillac as their only expensive luxuries. 
Akemon loved fishing in the Rockcastle River, and hunting squirrel, quail, and rabbit. 
Glistening under bright lights at the Kentucky Music Hall of Fame, Stringbean's prized Stevens double barrel shot gun is on display, along with his overalls, shirt, hat, and mint copies of his records. 
Stringbean Akemon's display can be viewed Monday-Sunday, 10:00 AM - 5:00 PM at the Kentucky Music Hall of Fame & Museum, 2590 Richmond St, Mt. Vernon, KY. 
For more information about Akemon and the Stringbean Memorial Bluegrass Festival and Park, please go to www.StringbeanPark.com. 
###
Press Release courtesy:  
Sherri George ~ Tour Manager and Publicist, Blue Highway